WHAT IS OXYGEN THERAPY?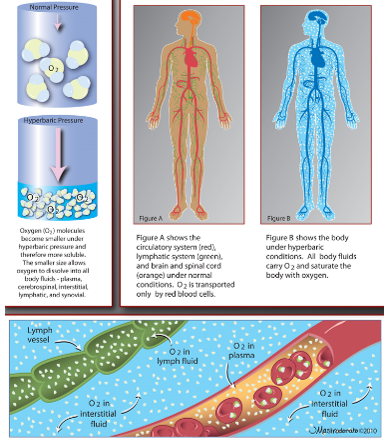 Hyperbaric oxygen therapy involves "a patient breathing O2 100% at high atmospheric pressure." Oxygen dissolved directly in the plasma can reach areas beyond the circulating capacity of erythrocytes. At 3 atmospheres, the oxygen content is approximately 6 mL/dL of plasma (vs 0.3 ml).
WHAT IS OXYGEN THERAPY?
1. The supply of O2 in hypoperfusion tissues determines: - the limitation of the ischemic effects, of the inflammation and of the cell death - the stimulation of the collagen synthesis and of the angiogenesis - the stimulation of the osteogenesis.
2. Vasoconstriction - limitation of edema, limitation of leukocyte adhesion in ischemia -reperfusion syndrome
3. Bacteriostatic / bactericidal effect - potentiation of the oxidative effect of neutrophils, the presence of O2 beyond the bacterial film
WHAT ARE THE INDICATIONS PRESCRIBED BY THE EUROPEAN COMMITTEE ON HYPERBAR MEDICINE (ECHM) AND THE HYPERBAR AND UNDERWATER MEDICINE SOCIETY (UHMS)?
-Severe anaemia
-Intracranial abscess
-Necrotic soft tissue infections
-Skin ulcers
-Osteomyelitis
-Post-radiotherapy lesions (bone, soft tissues necrosis)
-Compromised skin grafts
-Gas embolism
-Co (carbon monoxide) poisoning
-Gaseous gangrene (myositis with Clostridium perfringens type A, myonecrosis)
-Compartment syndrome, acute crush injuries
-Decompression sickness
-Arterial or venous insufficiency
-Central retinal artery occlusion
INDICATIONS OTHER THAN MEDICAL THERAPEUTICS ALSO EXIST
-There are indications for oxygenation of tissues in athletes and thus the aim is to restore sports abilities. Also, the oxygenation of the organism is beneficial to any overworked organism, having a fatigue resulting from the usual daily activities due to the ubiquitous stress, but also due to the physical work.